Customer Reviews
Voss 601 D2 - Gloss Black with Iridium Faceshield
Purchased a VOSS D2 helmet in XL which was quite big, I am usually an XL in Iron helmets. I contacted VOSS about an exchange and they made the process very easy in getting a Large size. Excellent customer service, Highly recommended! Helmet was priced right and looks great.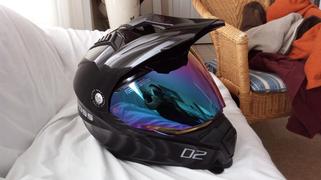 Hi Daniel - glad we could get you in the right size! Our exchange policy makes it that much easier to shop online. Hope you're enjoying the ride in the 601! - Julia
06/24/2020
John M.
United States
Love It!
Helmet fits great and looks fantastic, especially with the Gold Iridium Shield I added.
06/15/2020
Matt B.
United States
Good Value
I got a medium and it fits pretty good except pads around my ears push my headphone out, but that's more a matter of me finding better audio because the fit is right. The extra visor I got was super easy to install too.
06/15/2020
shawn p.
United States
My first voss
The 601 D2 has surpassed my expectations. Looks great, feels great
06/15/2020
Pi
Canada
Nice looking helmet
I was most impressed with how fast it was delivered only a couple days and it was at my door in Newfoundland. The helmet fit was on par with the guide chart. The chrome visor was really nice looking with the helmet. Love the fact a Vents all close for street riding. When they're closed riding was pretty quiet. It came with a helmet bag which was a surprise. It did fog up the first night I took it out but I never had the pin lock visor installed yet.