Customer Reviews
06/25/2020
Tyler O.
United States
Outstanding
Great easy to use and for the price you its better then I thought it was going to be
05/12/2020
Steve F.
United States
GREAT SYSTEM
For the price, installation is great, the speakers sound fair while riding and speaking through for a call is not ideal while riding. Nevertheless, it gets the job done!
05/05/2020
Jennifer M.
United States
Voss 989 Matte White
I need to say the installation of the Bluetooth was very simple and my Samsung phone paired to it right away. One thing I was disappointed in was the sound quality. I can barely hear my music or a phone call through the headphones that came with the voss Bluetooth system I bought. So I thought well ill buy new JBL headphone which helped slightly but I just don't think the sound quality is worth it. My helmet itself is beautiful. I love the way it fits and looks.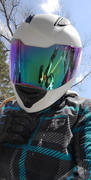 04/25/2020
Holly
United States
not the best
listening to music is good. But trying to have a phone conversation, can't hear anything on the other end. Its muffled badly.
04/23/2020
Holly
United States
Great Comm Set
fits great once positioned correctly. Sound is good when riding. No problems using it.