Customer Reviews
10/13/2020
Sean B.
United States
Worth the money
The lens is easy to install and actually works as advertised, well worth it
10/06/2020
Maxwell R.
Canada
09/03/2020
Jordan W.
Canada
Amazing
Love it. Super easy install. Great product!
05/07/2020
Joshua R.
United States
Fitment Problem.
After looking at helmets for hours over many days, I decided to go with the Voss 988. The quality of this helmet exceeded my expectations for the price. I measured before ordering and fell in on the line between L and XL. I rolled the dice on a L. It showed up a tad snug and when I requested a return/exchange Voss reached out to me and insisted there was no need for a return. They sent me the padding inserts for XL. They didn't charge me for the parts, they didn't charge me for shipping, they didn't even ask me to send back the L inserts. Color me impressed. Had my helmet fitting right 3 days after reaching out the them. I immediately ordered a chrome visor and pin lock insert. Which again showed up a day earlier than I expected. 5 stars on the visor. It fits the helmet as it should and looks amazing. Snaps closed firmly and seals up nice. The pin lock however.... the pin locks for this helmet are a bit more expensive than the pin locks for other helmets I looked into. 988 helmet, 988 visor, 988 pin lock. You'd think such a specific part would fit perfectly. It does not. Pin locks have to hold snug to the visor to keep air and moister out to prevent fogging. The one I received does not fit correctly. The notches don't seem to be cut deep enough for the visor. Making the pin lock a touch to long to fit between the pins causing it to bubble back out away from the visor. Could be a design flaw or a one off mistake. I'm not sure.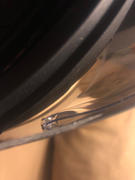 05/06/2020
Jairus M.
United States
Voss 988 anti fog pinlock
This product does the job very well.