Customer Reviews
08/04/2017
Scott R.
Canada
08/03/2017
Jeff M.
United States
Worth the price, and feels great
It took a few tweaks to get everything right -- I ordered the wrong size helmet for example, but Voss had my back and corrected the pad size needed. My Sena 20s wired in just right, and the provided cutouts fit my speakers perfectly. As for the helmet itself: it's lightweight (about half the weight of the lid it's replacing), wind noise is low thanks to the provided chin skirt-- I picked up a smoke visor, and it works well even with the built in drop down sunshade and does the job in the bright Florida sun. I had a few cosmetic concerns that I shared with Voss directly preciously; but on arrival one of the top vents was slightly out of place, and I noticed the top layer of paint (or sticker?) is peeling up around the left side of the helmet where the visor latch is located. Again these are petty cosmetic issues, and likely from just being a first-run purchase. The overall quality is fantastic. The airflow is masterful, and you feel like you are in a $500 helmet.
03/30/2020
Phillip C.
United States
Great helmet
Quite ,comfortable
03/24/2020
Jennifer N.
United States
BEST HELMET EVER
This is seriously the most comfortable helmet I've ever worn! My boyfriend has an Icon and a Ruroc and I've been using one of those when we ride (I'm a passenger) and I'm actually taking the course to learn how to ride in a couple months! I wanted to get my own helmet and after seeing TheKleb's videos, I went ahead and purchased my Voss helmet and it is the best decision I've made! I can't wait to ride my own bike and wear this helmet with it. The iridescent visor looks amazing with it. Will definitely shop with Voss again! The shipping was super fast & customer service was outstanding.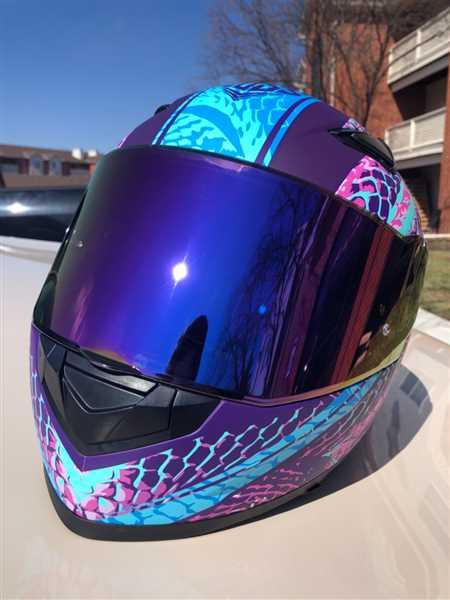 03/24/2020
Maxime B.
Canada
988 Moto-1 Review
First of all, the look is crazy. Everybody around me are looking at me. Like the way it attract peoples looking. Fit is good and comfortable. The price is good for the quality of the product. I already recommend it to a friend.