Customer Reviews
08/06/2017
Daniel A.
Canada
Voss 601 D2 - Gloss Black with Iridium Faceshield
Purchased a VOSS D2 helmet in XL which was quite big, I am usually an XL in Iron helmets. I contacted VOSS about an exchange and they made the process very easy in getting a Large size. Excellent customer service, Highly recommended! Helmet was priced right and looks great.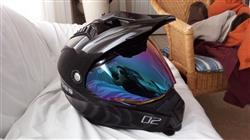 11/17/2017
Voss Helmets USA
Hi Daniel - glad we could get you in the right size! Our exchange policy makes it that much easier to shop online. Hope you're enjoying the ride in the 601! - Julia
12/05/2019
Jordan V.
United States
Voss helmet
So the main reason I got the helmet was because it's my last name so I though that was cool I'm no helmet expert but I do ride motocross and so far the helmet has held up taking a beating and I'm still alive so it's doing its job this far I'm happy
09/18/2019
NICHOLAS K.
United States
Voss helmet
This helmet is extremely comfortable, I can wear it on long rides with no pressure points.
Well worth your money
Unfortunately I was put in a situation where I lost control of my rear wheel while going around a curve and somehow managed to get he bike upright again. In the fit of panic I forgot I was in a curve, which lead me straight off the road into a 6 foot ditch where I was slung off the bike, over a driveway where my helmet made contact with the ground saving my life as I continued to fly off Into another much shallower ditch. When I hit the ground the peak actually took most of the impact before my face slammed Into the ground. I'd possibly be dead today if it were for the helmet I had on, and that to me, is worth every penny I spent on the helmet.
06/28/2019
Therese R.
Sweden
Superfast shipping
My son is very happy for his new helmet. Perfect fit and the coolast helmet ever! Great customer service superfast shipping to Sweden. Thank you Voss! :-)