Customer Reviews
08/06/2017
Daniel A.
Canada
Voss 601 D2 - Gloss Black with Iridium Faceshield
Purchased a VOSS D2 helmet in XL which was quite big, I am usually an XL in Iron helmets. I contacted VOSS about an exchange and they made the process very easy in getting a Large size. Excellent customer service, Highly recommended! Helmet was priced right and looks great.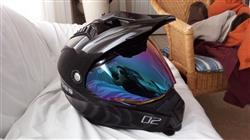 11/17/2017
Voss Helmets USA
Hi Daniel - glad we could get you in the right size! Our exchange policy makes it that much easier to shop online. Hope you're enjoying the ride in the 601! - Julia
02/14/2020
Konstantinos G.
Canada
601 D2
The helmet arrived within a day and a half the fit was good the quality looks good and the staff we're very helpful and informative overall good experience
01/14/2020
Troy P.
United States
Fantastic helmet
Ordered this helmet a couple weeks ago. Got it a size up for the cold weather and can put head gear under it to keep warm. It's a great helmet. The graphics are nicely done. Got the iridium pin lock and it came with the pin lock so that's a bonus. It's a lightweight, fairly quiet helmet. I would compare it to my airflite, without headgear on. As far as wind noise I ride a triumph scrambler 1200 so there is basically no wind protection, so I bet with some protection it is really quiet. I contacted the sales team about some new pads and they got back immediately with me. All in all whenever I need a new helmet it will probably be a Voss.
12/24/2019
Colton T.
United States
Excellent Helmet
The price of the helmet was extremely good, it fit me just right, and I loved all the options I had for the color of my visor, would definitely buy a helmet from Voss again!