Customer Reviews
05/07/2020
Joshua R.
United States
Fitment Problem.
After looking at helmets for hours over many days, I decided to go with the Voss 988. The quality of this helmet exceeded my expectations for the price. I measured before ordering and fell in on the line between L and XL. I rolled the dice on a L. It showed up a tad snug and when I requested a return/exchange Voss reached out to me and insisted there was no need for a return. They sent me the padding inserts for XL. They didn't charge me for the parts, they didn't charge me for shipping, they didn't even ask me to send back the L inserts. Color me impressed. Had my helmet fitting right 3 days after reaching out the them. I immediately ordered a chrome visor and pin lock insert. Which again showed up a day earlier than I expected. 5 stars on the visor. It fits the helmet as it should and looks amazing. Snaps closed firmly and seals up nice. The pin lock however.... the pin locks for this helmet are a bit more expensive than the pin locks for other helmets I looked into. 988 helmet, 988 visor, 988 pin lock. You'd think such a specific part would fit perfectly. It does not. Pin locks have to hold snug to the visor to keep air and moister out to prevent fogging. The one I received does not fit correctly. The notches don't seem to be cut deep enough for the visor. Making the pin lock a touch to long to fit between the pins causing it to bubble back out away from the visor. Could be a design flaw or a one off mistake. I'm not sure.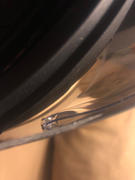 05/06/2020
Jairus M.
United States
Voss 988 anti fog pinlock
This product does the job very well.
01/27/2020
Emery K.
United States
Works, but obstructs.
This product was easy to install and works perfectly as intended. With that said, it does not extend far enough to the top end he of the visor and when tucked and looking through the top portion of the visor, the edge of the pin lock is right in the middle of the field of vision and distorts/obstructs the view. At night, there is a double glare from lights. But during the day on a casual ride, this is great.
Hi Emery! So sorry to hear that the pin-lock has created this issue for you. We are currently in the process of implementing a "max vision" Pin-Lock system which will surround your entire field of vision, to reduce any obstruction of view. We greatly appreciate your feedback! Hopefully when the new version is released you will find its function better suites your needs! Best, Voss Helmets
12/24/2019
Kara K.
Canada
Pinlock purchase
I purchased a 988 series helmet from Weavers in Victoria a couple of months ago and then just recently purchased the pinlock for the helmet on line. Although I haven't actually worn the helmet since putting the pinlock on, the helmet is excellent - the wind noise and comfort is excellent. Wearing the visor down instead of wearing sunglasses is COMPLETELY AMAZEBALLS! It allows so much more freedom for head movement, shoulder checking and overall comfort!
Works Great
Easy to install, although bending the visor that far makes me a bit nervous, but obviously it is designed to do so. I noticed a very large reduction in fog after installing. Highly recommend.