Customer Reviews
11/22/2020
Vincent N.
United States
Great helmet! Great customer service!
I'm using this for an ebike that goes up to 34mph on the throttle but downhill I went as fast as 41mph so I'll need the protection. I love the design on my helmet and it was my 2nd choice because the helmet I wanted was sold out but I still love it very much. It finally broke in nicely after a couple of days. Customer service quick and the staff was nice! Overall one of the best customer service from any company I've ever had! Highly recommend them!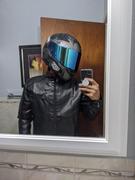 11/15/2020
Logan S.
United States
Excellent
Overall a well developed helmet. When I received this I was very excited. Many great features. Easy to clean too. Breaks in very easily and doesn't seem to fall apart like other cheap helmets. It fit perfectly to the size I ordered. I hate to say I have a small head but I'm rocking a XS haha. I would recommend this helmet 100%
11/03/2020
Jonathan G.
United States
11/03/2020
Aydan F.
United States
Awesome
It was really good Customer service is amazing And helmet fits really good!